CFD PRODUCTS
Trade on global exchanges with 400+ CFDs
Capture opportunities as markets move by speculating on indices, forex, commodities, ETFs, futures, cryptos & share CFDs on MT4 & MT5.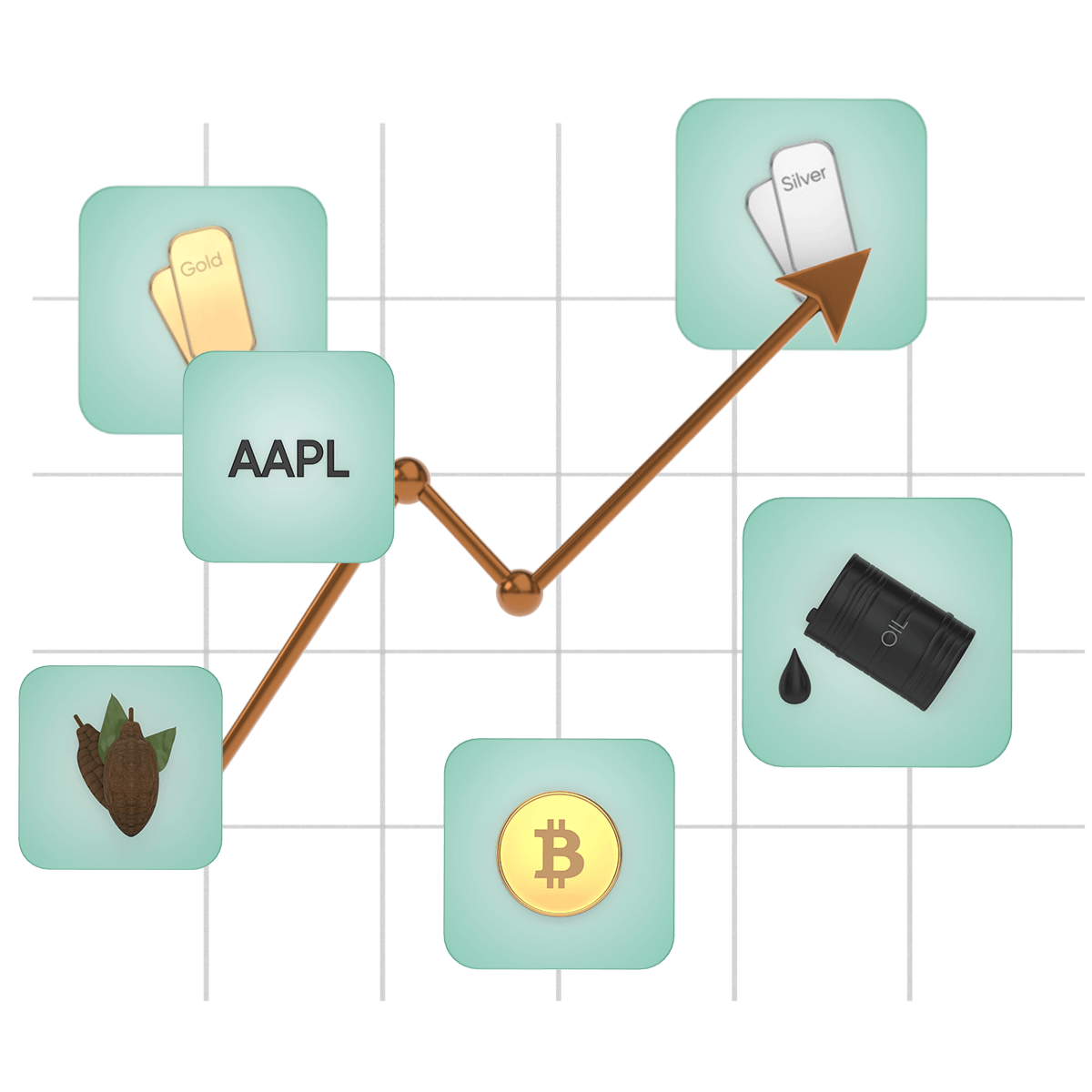 WHY TRADE WITH EQUITI?
Go long or short on the world's popular markets
Speculate on whether an asset's price will move up or down – without owning the asset.
Great rates
Spreads from 0.0 pips and up to 1:500 leverage with $0 platform fees.
Fast execution
Top tech with low latency to keep your trades running as planned.
Secure
Your money is kept in independent accounts with trusted Tier 1 banks.
OVER 400 CFD PRODUCTS
Trade on the rise or fall of prices with 1:500* leverage
Trillions move in the market daily, we've handpicked these CFD trading instruments to give you a head start.
60+ FX Pairs
Buy and sell 60+ forex pairs including EURUSD, GBPUSD, GBPJPY & AUDUSD. 
Indices
Speculate on global economies with US30, UT100, UK100, DE30 & other index rolls. 
300+ shares
Trade on the yield of top companies like Apple, Meta, Disney, Amazon & Tesla.
Commodities
Weigh in on oil, gold, precious metals & more with precise lots from 0.01*.
Futures
Predict future price moves on gold, commodities & major indices like UT100.
ETFs
Forecast the performance of robotics, big data & biotech with curated stock baskets.
FAQs
Questions about trading online
What are CFDs & how do I trade them?
CFDs or 'contracts for difference' are derivative products designed so that you can trade on the price change of an underlying asset.
This means you can trade on the price movements or performance of assets without needing to own them outright - which allows you to go long or short and potentially benefit from either rising or falling markets.
You can also trade CFD indices such as US500, UT100, US30, DE30, UK100, AUS200, China50 & Sing30 rolls.
What is 'leverage' & how do I use it?
We offer leverage through the use of margins, where we provide borrowed funds from our deep liquidity pool to increase your trading position. This means traders can increase their market exposure by paying a fraction of the initial investment. In practice, 1:20 leverage means you can invest $10 and trade with $200 - allowing for higher potential gains AND losses. Make sure you understand your risk appetite. Try to minimise your losses by using stop loss tools or other risk management strategies.
We offer up to 1:400 leverage on selected products including precious metals, gold, oil & natural gas commodity CFDs.
What is a 'pip'?
A pip, short for 'point in percentage', is a very small measure of change in a currency pair in the forex market. It can be measured in terms of the quote or the underlying currency. A pip is a standardised unit for the smallest amount by which a currency quote can change. It is usually $0.0001 for USD-related currency pairs. A fractional pip or point is equivalent to 1/10 of a pip. There are 10 points to every 1 pip.
What are spreads?
Spreads are measured in pips and show the difference between buy and sell price. In trading, 'ask price' (or 'offer price') means the price you'd like to buy at, and 'bid price' is what you'd like to sell at. In practice, if EURUSD has a bid price of 1.55310 and an ask price of 1.55313, the spread would be 0.3 pips.
Do you offer margin-free hedging?
Yes, we offer margin-free hedging where any hedged positions are set to 'zero'. This means you do not need a margin to maintain the position which will show your net position equal to zero. This allows you to benefit from more available funds, but it can also pose the risk of triggering 'margin call' or 'stop out' events when sudden spread widening (eg. during news releases).
Please consider rolling fees over weekends in your financial planning as margin-free hedged positions are not swap-free - unless you are trading on a swap-free account.
There's more to explore
Platforms
Find the right trading platform for your needs - we offer MT4 and MT5. 
Accounts
Experienced or beginner - find the right trading account for you.
Partners
Introduce your client network for competitive benefits.